Deputy Head of the 33rd ICFF International Section, HamedSoleimanzadeh, presented a report on measures taken by this section during the festival. 'Due to the pandemic outbreak we started off online, holding 7 international workshops which received great feedback. Together with the Q & A sessions, each workshop had 30 participants in average. Interestingly, in our physical workshops we had the same or even fewer numbers of participants', he said.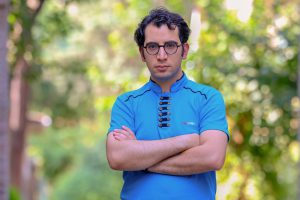 Soleimanzadeh pointed out that the workshops were prerecorded, but the Q & A sessions were held live and emphasized that the international trainers were satisfied with workshops and reposted the reports of their workshops on their personal pages. He also referred to the international jury members with whom some of the International Section Personnel were in contact, and as a result, the judging and decision-making sessions were regularly held, for 2 to 3 hours each, and the results were announced on time.
Referring to the themes of the films in this edition, he said, 'we had films about peace, love of nature, fighting discrimination and racism, honesty and the significance of family. The themes were attractive to the jury members and they were also quite satisfied with the quality of works'.
Soleimanzadeh said that, 'like the previous edition, we are not introducing any nominees in this section and the winners will be announced on Friday October 23. The young jury members had their own virtual discussion sessions, shared their ideas on different works and came to a conclusion which will be announced in the news'.
He also referred to the video library with more than 400 films collected in collaboration with different centers and organizations such as Iranian Youth Cinema Society, The Documentary and Experimental Film Center, Farabi Cinematic Foundation and the private sector. 'The international buyers watched the films on Hashure platform and were in virtual contact with us. Many of them were interested in participating in workshops and coproduction panels', he continued.
'We had 4 coproduction panels held with people active in the world of cinema from Armenia, India, Pakistan and Serbia. The panels were fruitful ones, we had good interactions and agreements on coproduction which I hope can be put into action as the pandemic ends', Soleimanzadeh concluded.
Due to the outbreak of the new Corona Virus, based on the multilateral agreement made by the Iranian Cinema Organization, Farabi Cinematic Foundation and Isfahan Municipality, this edition of the festival is being held virtually from October 18 to 23, 2020 under the supervision of AlirezaTabesh.
The Festival is organized in a competitive format in two different sections; Iranian Cinema Competition and International Cinema Competition.