The 33rd Film Festival hosts children and youth juries, like previous years. Judges who are the festival's guests through their cameras.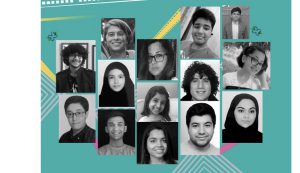 Narc Avtisian, from Armenia: "I hope you are aware of what is going on in my country these days. Today, my country is fighting for peace and justice for all the world and the world's little heart, Armenia, my friends, my brothers, and our heroes are fighting for your freedom. They are fighting so that I would still be able to create, make art, live, love, and to be a part of this festival. As a jury member of the festival, I vote for a literary work which my heart and soul choose and I wish for peace."
Aineesh Dutt, 17 years old, from India, is glad to be a jury member of the festival and says, "The two sentences I want to tell the youth would be: Never stop questioning, always be curious and always be inquisitive."
Tamara is 14 years old and is from Armenia, she says that she plays the piano professionally and she suggests you follow your dreams and never give up.
Carmine is 19 years old and from Italy. He graduated from high school a few months earlier and now he is a university student, he is excited that he has been chosen as a jury member. He says, "I'm looking for sharing ideas with others and I try to look at movies and other things from different aspects because it helps us grow to evaluate as human beings."
Leona Jarikj is from Macedonia and talks about the coronavirus outbreak and says, "My advice to you in this crazy time is to keep in touch with your friends and family, just listen to people, talk to people, read books and watch a movie. Everything is in movies. So, don't forget to let your imagination run wild."
Mohammed Tufekdje from Northern Macedonia also wishes for all children from all around the world to stay healthy and safe and to follow their dreams through cinema.
Fatemeh Saad lives in Pakistan and she is excited to be a part of the jury member and says, "Hope you and all children stay home and entertain yourselves with something useful."
Ruhani from India is a 19-year-old theater actor and says, "I would like to say to teenagers my age that always believe in yourself, be ready to discover new ideas and use what you have in the best way and look for happiness in what you create, this is the most important thing."
Ahoora Aboli wishes that coronavirus was gone before the festival so that they could watch the movies and judge them together.
He says, "Although coronavirus has pushed us apart, I'm sure our souls are closer than before and we are here for our interests and talents and the 33rd ICFF is like an open window to our wishes and dreams"
Asal Bahador another jury member also wishes that the 33rd film festival that is being held virtually this year, due to the coronavirus outbreak would be an amazing festival and full of flowers and butterflies that are flying on our amazing earth. She says, "As you may know, living without cinema, art and children is meaningless for everyone and cinema makes our days colorful."
Yeganeh Mohammadi another member of the jury, expresses her happiness to be a part of this festival and says, "I hope children from all around the world spend their time in the best possible way and this is exactly the festival's purpose to spend your time in happiness. Stay cool and try to watch all the festival's movies if you can."