The 33rd International Film Festival for Children and Youth kicks off today, as the Coronavirus outbreak presents new challenges.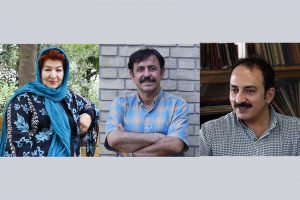 Although there have been oppositions for all holding all types of film festivals since the beginning of this year, the festival arrangers have decided to keep the festival's lights on and as the first experience hold the festival virtually. One of the aspects of the festival is to pay more attention to children and youth cinema and in a cinema where children's movies have always faced rejection and been unwanted, not holding this festival, marginalizes attention to children and youth cinema.
Children, The Future Presidents
Abolfazl Jalili, a well-known cinema for children filmmaker, in an interview with "Iran", considers holding this festival virtually, as one of the cultural necessities of these days. He believes cultural activities should not be stopped at any time, under any pretext: Coronavirus might be a good excuse to break off doing some activities, on the other hand, if the intention is to serve and present, we will do our duty no matter the circumstances.
Emphasizing that this festival will not be shut, the filmmaker adds: My abiding advice to my kids is that, if you want to succeed, you have to love. This kind of love can be towards a boy or a girl in a relationship or a relation between a job and assistance. Unfortunately, we do not love these days. We burned love. But if you love serving your people, you will no longer use the situation and problems as an excuse. Although it is a big obstacle and hard to work, but easy and borderless not to.
The filmmaker continued: What is our purpose in holding the festival? To play songs and sing and to make those children who are not able to dance, happy, and to just recognize their needs and problems.
He adds: Today, a large number of children in Sistan and Baloochestan villages do not have water to drink or bread to eat. It is culture and art's duty to find the roots of these children's problems.
Abolfazl Jalili, in response to a question about classifying movies in this field into two categories, one "About Children" and one "For Children", said": I always make films, about children and not for them. 
He said: During my time, working in children TV group when we requested for children to be paid more attention to, we were always told, "Who are these children and what do they do?" and we would say: They are the future's leaders and presidents.
We Have No Rights to Bring the Disappointments in Adults' World, into Cinema for Children
Hossein Ghenaat, director and filmmaker of cinema for children and youth, thinks the success of children's films is not affected by the festival. He said, "If children's cinema has flourished in recent years – although it is still far from its real place on screen – it is not because of the festival, but because filmmakers have tried to bring children and families to the cinema, knowing the right audience. I, love movies that have the potential to be screened and seen by people.''
"Little Heroes" director, emphasizing on holding the festival virtually, said: "Any event, reminding us of cinema for children, is a good and auspicious event."
The director who is personally, into making films for children and youth said," I am interested in making films in which children are the heroes and they believe in themselves."
To Forget Children is as if We Forget Our Future
"Festivals for children and youth were created from the beginning based on purposes and intentions, the ones that must be planned for, accordingly." These are parts of Pooran Derakhshandeh's interview, a director who has always been concerned about children. She says, "It is like there is no motivation to make films for children, I don't know, or there may be some motives, but the conditions are not provided."
The director of "Relationship" said," We must be careful not to lose what we have achieved, during these years."
She added: My movies were screened only once. "The Wet Dreams", "Endless Dreams", and "Eternal Children" were screened limited, because exhibitors preferred comedies."
She says that she has never given up since she has always been concerned about children and youth cinema, but even for those who were in love with cinema, things went in a way that they decided to leave the field clear, for others."
Finally, she said," We need a serious mechanism, new plans, and even separate budgets. It seems like we have lost our future, while we have forgotten about our children. It'd be better to do something a