The jury board for the Zaven Ghokasian Award at the 33rd International Film Festival for Children and Young Adults (ICFF) has been introduced.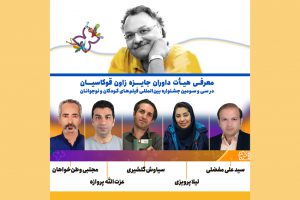 According to the 33rd ICFF Public Relations Office, animator and animation instructor, Seyed Ali Mofazzali, documentary maker, Ezzatollah Parvazeh, stage director and theater instructor, Leila Parvizi, editor and cinema instructor, Mojtaba Vatankhahan, and author and cinema instructor, Siavash Golshiri, are the 5 members of the jury board for the Zaven Ghokasian Award at the 33rd ICFF.
Talking about selecting the jury board for the Zaven Ghokasian Award at this edition of the festival, the secretary of Zaven Ghokasian Award, Siavash Golshiri added, "Like the previous editions of the festival, we primarily tried to include Mr. Ghokasian's friends and students in the jury panel for this award. It is worth mentioning that the films participating at the Iranian Cinema Competition Section will also be judged by this panel."
He added, "The Zaven Ghokasian Section is being held for the third consecutive year. In 2018, the jury members were mostly selected among cinema veterans from Isfahan. However, in 2019 and 2020, we attempted to select the jury members quite differentlyand tried to instead include Zaven's students."
Golshiri stated, "Last year, before the festival, an event called "Night of Zaven" was held at the Museum of Contemporary Arts in Isfahan and late Manouchehr Tayab attended this event as a special guest of honor. This year, we have planned to hold this event virtually, and some parts of last year's event will be shown at this year's event. The time of the event will be accordingly announced."
Due to the outbreak of the new coronavirus and based on the multimedia agreement made by the Iranian Cinema Organization, Farabi Cinematic Foundation, and Isfahan Municipality, this edition of the festival will be held virtually from October 18 to 23, 2020 under the supervision of Alireza Tabesh.
The festival will be organized in a competitive format in two different sections; Iranian Cinema Competition and International Cinema Competition.