Alireza Tabesh: We have to show the world that Iran is seeking new ways for cultural existence in the new world
The director of the 33rd International Children Film Festival (ICFF) announced, "Under no circumstances has Iran ever forgotten about taking cultural actions and currently, Iran is seeking new ways for cultural existence in the new world. We will do our best to turn threats into opportunities through online cultural exchanges in the virtual world."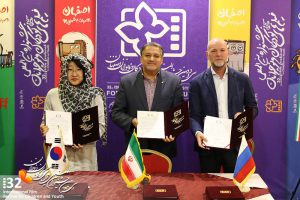 According to the 33rd ICFF Public Relations Office, Alireza Tabesh talked about the special circumstances and the new approaches that should be taken to execute this edition of the festival and said, "Due to the outbreak of COVID-19, and before receiving the call regarding this edition of the festival, the online execution of the 33rd ICFF was emphasized. Eventually, it was determined that most of the sections would be executed online, and only some of the feature films would be screened at the House of the Festival with the attendance of the cast and crew and film experts."
He referred to the screening schedule of the festival, and added, "Short films, animations, feature documentaries will be shown on the selected platforms for the registered audiences and the jury members. It is worth adding that screening the works on online platforms requires the permission of the filmmakers, and nobody has been forced to take part in the online execution of the festival."
Regarding the concerns about copying the works, Tabesh said, "VOD channels have been popular platforms for screening films and series in recent years. Copying the works is considered immoral across the world, and there is no justification for that. In the recent months, a lot of festivals have been held online, and right now it is our turn to prove to the world that we are also seeking new ways of cultural existence in the new world. We will do our best to turn threats into opportunities through online cultural exchanges in the virtual world."
Tabesh added, "Due to the online execution of this edition of the festival, we have provided the jury members with links to watch the films that have been selected for the competition section. We have also asked for the permission of the filmmakers, whose works are going to be screened via online platforms."
The director of the 33rd ICFF expressed hope that this edition of the festival will be run in the best way possible and it will provide them with valuable experiences regarding the execution of online festivals.
Due to the outbreak of the new coronavirus and based on the multimedia agreement made by the Iranian Cinema Organization, Farabi Cinematic Foundation, and Isfahan Municipality, this edition of the festival will be held virtually from October 18 to 23, 2020 under the supervision of Alireza Tabesh.
The festival will be organized in a competitive format in two different sections; Iranian Cinema Competition and International Cinema Competition.