32 short films and animations selected by the 33rd ICFF were announced.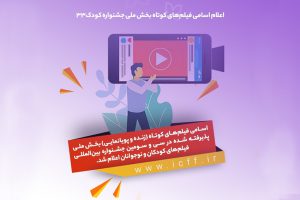 18 animated and 14 live-action short films were selected to be screened at the National Section Competition of the festival, the 33rd ICFF Public Relations Office reports.
The animated short films are as follows:
"Room 21" directed by Peyman Dehghani
"Rain Tears" directed by Esma'il Abbasi
"Ba'le" (Yes) directed by Mahin Javaherian
"Reverberation" directed by Barzan Rostami
"Visage" directed by Atila Ashouri
"The Sun of the Sky, the Sun of the Tile" directed by Ziba Arjang
"Zag and Zig" directed by Esma'il Jabbari
"Zunami" directed by Tiam Yabandeh and Shirin Ekhlasi
"My Voice, Her Voice" directed by Ayda Hafezi
"Eleventh Step" directed by Maryam Kashkoulinia
"My Pretty Train" directed by Nairi Eyvazi, Noushyar Khalili and Nikou Ahadi
"If Only" directed by Hadi Amiri and Raha Faraji
"Twilight" directed by Omid Seifi
"Burnt Lamp-wick" directed by Na'imeh Mahmoudi
"The Joy of Flying" directed by Mostafa Nazarizadeh
"I'm Iranian" directed by Alireza Kavianrad
"Rescuer" directed by Sajjad Esma'ilbeigi
"Lunch in the Meadow" directed by Hamidreza Bayat
The live-action short films are as follows:
"Cold Water" by Hadi Kiani Falavarjani
"Selfless" by Mehdi Faridi
"Nor Today" by Marjan Esma'ili
"Anti-Viral" by Majid-reza Dehghani Tafti
"I Will Make it up" by Jamal Ahmadi
"In-Doubt" by Sobhan Nasiri and Alireza Hosseinzadeh
"The Rainbow" by Mohammad Khalili
"Black" by Khorshid Alami and Negar Najafzadeh
"Driver" by Reza Nejati
"Honey Town" by Mohammad-Mo'in Rouholamini
"Quarantine" by Kaveh Mo'infar
"Camion" by Fatemeh Fereydoun
"Buffalo" by Ebrahim Ashrafpour
"Baffled" by Samira Hazrati
Due to the outbreak of the new Corona Virus, based on the multilateral agreement made by the Iranian Cinema Organization, Farabi Cinematic Foundation and Isfahan Municipality, this edition of the festival will be held virtually from October 18 to 23, 2020 under the supervision of Alireza Tabesh.
The Festival will be organized in a competitive format in two different sections; Iranian Cinema Competition and International Cinema Competition.