Javad Hashemi is going to participate in the 33rd ICFF with Torna2 (Number 2).
The 33rd ICFF Public Relations Office, as quoted by Fars News Agency, reports that Javad Hashemi talked about pursuing his career as a children filmmaker and stated, "I've always wanted to make films that appeal to children and children can relate to. So far, I feel that "The White Forehead" films and "Torna2" have been well received by children."
This director added, "I, first of all, pay attention to children's taste and their viewpoints. I support the annual execution of the Children Film Festival since it motivates children cinema activists. I hope that they will support the screening of those films that have been inspired by children and families' outlooks."
Torna2 tells the story of a boy called Omid who has been left alone on an unknown space island called Tiana. He doesn't want to return because he has fallen in love with the king's daughter, Shimba. On the other hand, the children have flown Torna2 to save Omid. The inspector and the professor try to help Omid, Shimba, and the kids to return to the earth.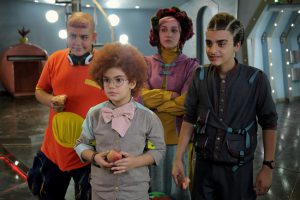 The film stars Akbar Abdi, Kamran Tafti, Behnoush Bakhtiari, Arsalan Ghasemi, Elnaz Habibi, Rastin Azizpoor, Amirreza Ahmadi, Negar Nafez, Mohammad Mehdi Irani, Abbas Jamshidifar, Amir Ronaghi, Farzaneh Zohrehvand, Hadi Najafi Emami, and Mohsen Rostami.
The film has been directed, produced, written, and edited by Seyed Javad Hashemi, and the score has been composed by Behnam Sobouhi.
Due to the outbreak of the new coronavirus and based on the multimedia agreement made by the Iranian Cinema Organization, Farabi Cinematic Foundation, and Isfahan Municipality, this edition of the festival will be held virtually from October 18 to 23, 2020 under the supervision of Alireza Tabesh.
The festival will be organized in a competitive format in two different sections; Iranian Cinema Competition and International Cinema Competition.