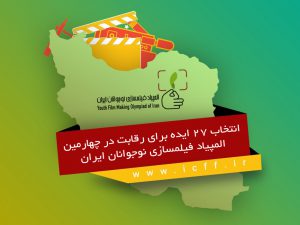 27 ideas selected to compete at the 4th Youth Filmmaking Olympiad of Iran were announced. The Selection Committee chose these ideas from among 439 works submitted by Iranian young adults inside the country, according to the 33rd ICFF Public Relations Office. The titles are as follows:
"Painting Competition" by Salar Montazeri from Yazd
"Forty-Five" by Nima Ghadimi from Parand
"The Sound" by Seyyed Mehdi Mousavizadeh from Khomeini-shahr
"Goodbye Corona" by Mehdi Goli from Tabriz
"Daddy's Girl" by Ma'soumeh Tutakhaneh from Maragheh
"Incredible" by Kiarash Najafzadeh from Mashhad
"The Mask" by Fatemeh Ghadiri from Khomeini-shahr
"Swollen Wrath" by Pouria Kashi from Dorcheh Piaz
"Rasta's Birth" by Kasra Alizadeh from Ardabil
"On-line" by Mohaddeseh Bazmi from Bandar Abbas
"Internet Problems and Potentials" by Marzieh Esma'ili from Tehran
"The Station" by Sahar Khani from Khomeini-shahr
"The Elevator" by Arefeh Ja'fari from Meybod
"The Neighbor" by Arefeh Fallah from Meybod
"The Sandwich" by Mohammad-Sadra Jamali Pileroud from Karaj
"History Class" by Karen Jamal Omidi from Lahijan
"Dream House" by Amin Azizi from Ardabil
"Free Fire, Me and Mommy" by Danial Mizani from Kerman
"Simorgh" by Alireza Fathi from Hamedan
"This is Babak" by Hossein Shegaleh from Tehran
"The Top" by Bita Behjou from Dezfoul
"The Twelve" by Amir-Abbas Khalesifar from Joghatay
"Two Dummies" by Seyyed Ali Ghazipour from Joghatay
 "Selfish" by Kasra Roshanfekr from Sabzevar
"Self-Destruction" by Yasin Izi from Sabzevar
"Pencil Car Wash" by Narges Farzaneh from Sabzevar
"Delicious Wedding" by Mehdi Fakhri from Mashhad
Due to the outbreak of the new Corona Virus, based on the multilateral agreement made by the Iranian Cinema Organization, Farabi Cinematic Foundation and Isfahan Municipality, this edition of the festival will be held virtually from October 18 to 23, 2020 under the supervision of Alireza Tabesh.
The Festival will be organized in a competitive format in two different sections; Iranian Cinema Competition and International Cinema Competition.