'The film festivals for children and youth, with the assessments and statistics they provide, offer a golden opportunity to those concerned with reviving children's films and industrializing children cinema to decide how to make films for this audience in the future', said the Iranian director, Bijan Mirbagheri.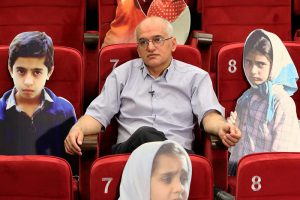 Referring to the pandemic and its negative social impacts, he said, 'this edition of the ICFF should be held in a different way. We should not let this Pandemic impede life flow, but try to do our best to hold the festival even better than the previous editions, the 33rd ICFF Public Relations Office reports.
Pointing out that this edition of the festival can help all those who produce content for children to find out what films and themes are Iranian children more interested in, Mirbagheri added, 'virtual screenings take this festival out of Isfahan and Tehran, allowing other parts of the country to be involved, as well'.
The director of the well-received short films "Unwritten Letter" and "Two Sisters" also referred to the significance of the assessments and statistics made during the festival and provided in the form of content usable for filmmakers and writers to decide what path to choose in the future.
'What is now being presented to children through domestic platforms is not new anymore and we do not have a particular plan for coming months. We are in the midst of a crisis, but we still can have long-term plans. Let's even forget about the festival and just think what content we are going to offer to the Iranian children who may have to stay at home another whole year', he continued.
He also talked about some limitations and lack of support which caused good filmmakers to stop working in children cinema and expressed hope that, with the advent of distribution platforms, there will be financially motivating plans which attract filmmakers to make contributions to content production for children. Mirbagheri criticized IRIB for imposing some limitations regarding children's programs and not showing any interest in high-quality content production, pointing out that if this policy changes and goes towards commercializing these contents, the fruit can be enjoyed in the cinema, as well.
The director of "Mahsa" referred to the view held by policymakers at IIDCYA, saying that 'they believe content should be made in a limited scale, that is, for festivals; and they do not care about the public audience, cinemas, commercialization and making to sell. So, many filmmakers, including me, cannot accept their filmmaking standards'.
'Nowadays, social developments around children are happening very fast, and filmmakers should take this into consideration. However, the dominant old views do not leave any room for them to work on new themes and ideas. I hope this hard situation will not last long and innovative people find the chance to work' he concluded.
Due to the outbreak of the new Corona Virus, based on the multilateral agreement made by the Iranian Cinema Organization, Farabi Cinematic Foundation and Isfahan Municipality, this edition of the festival will be held virtually from October 18 to 23, 2020 under the supervision of Alireza Tabesh.
The Festival will be organized in a competitive format in two different sections; Iranian Cinema Competition and International Cinema Competition.