'Children are imaginative; therefore, they enjoy the films which have elements of imagination or ignite imagination in them', said the young Iranian actor, Parsia Shakouri, in an interview with the 33rd ICFF Public Relations Office.
'I have not been able to win an award at ICFF yet. I badly desired to win one at first, but gradually I found out that winning an award is not everything. It's enough when you attract directors and writers' attention, because then you are offered various roles and make huge progress in your career', he added.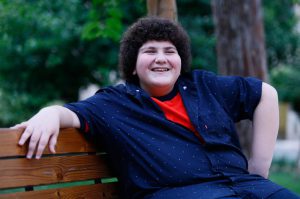 Parsia also talked about his interest in filmmaking, pointing out that he would start with some children's films, as he started his career as a child. He also mentioned music as the most attractive feature in children's films followed by elements of imagination. 'But it should have something for adults, as well, since children generally watch their films along with their family members', he said.
Regarding his experiences of presence at several editions of the festival Parsia said, 'these six editions have all made lovely memories, me and my friends being playful, seeing films and being interviewed'.
He referred to the film "Chubby Boy" as one of his favorites, particularly because of the role his friend, Samyar Mohammadi, played in it and the director of the film, Hossein Ghena'at, with whom Parsia has worked a lot. He also named "Red-hat and Cousin" and "Thief of Dolls" as two other films he really loved and emphasized that Akbar Abdi has always been his role model. Shakouri expressed interest in working with Mehran Modiri, as well.
'compared to those who are new to the field or those who are studying and have no real experience, I know more things after eight years of experience in this realm, but there are many other things yet to be learned; and I have to achieve them through academic education. I invite children to join us in this event as we are eagerly waiting for their comments, and I hope this virtual edition will be received well by children', Shakouri concluded.
Due to the outbreak of the new Corona Virus, based on the multilateral agreement made by the Iranian Cinema Organization, Farabi Cinematic Foundation and Isfahan Municipality, this edition of the festival will be held virtually from October 18 to 23, 2020 under the supervision of Alireza Tabesh.
The Festival will be organized in a competitive format in two different sections; Iranian Cinema Competition and International Cinema Competition.