Pouran Derakhshandeh said, "Children have a pure imagination and we cannot lie to them. We should passionately work for this pure world."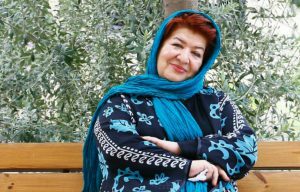 According to the 33rd ICFF Public Relations Office, Female Director, Pouran Derakhshandeh, stated, "The International Film Festival for Children and Young Adults is held once a year and it has always been well-received. It seems to me that a bigger budget should be allocated to this festival. We need to provide better opportunities for filmmakers to improve the quality of children films in Iran."
The director of "Eternal Children" talked about the online execution of the festival and said, "We should look at the bright side of what has happened. The new generation of kids appeal to the virtual world and I gather, we should provide better opportunities for them to participate in such events via their favorite platforms. I think, due to the current circumstances, we can attract a larger number of kids to take part in this edition of the festival."
Derakhshandeh talked about the features of children films and added, "We need to take two issues into account when making a film for children. Children films should focus on both children's concerns, and children's world. Obviously, in order to produce films for children, we ought to familiarize ourselves with their world. Generally speaking, making films for children is demanding."
Derakhshandeh added, "We need to be familiar with children psychology and sociology to make better films for children. Filmmakers should know who their audiences are. It's not really possible to make films for children without getting to know them."
"We cannot make films for children who were born in the 80s anymore. We should know that we're making films for a new generation of children who have different needs and expectations. Films that were considered important once, belong to the era in which they were made. Nowadays, everything is done online, so we need to take this into serious consideration.", said Derakhshandeh.
The director of "The Relationship" stressed that children filmmakers should be familiar with children's moods and thoughts; therefore, it is necessary that they conduct surveys to become familiar with children's needs and demands.
Derakhshandeh added that "The Little Bird of Happiness" tells the story of a kid who talks about the world surrounding her. Everything is dark in her eyes. The only symbol of love in this film is the teacher who does her best to open the kid's eyes and at the same time understand her.
Due to the outbreak of the new coronavirus and based on the multimedia agreement made by the Iranian Cinema Organization, Farabi Cinematic Foundation, and Isfahan Municipality, this edition of the festival will be held virtually from October 18 to 23, 2020 under the supervision of Alireza Tabesh.
The festival will be organized in a competitive format in two different sections; Iranian Cinema Competition and International Cinema Competition.