"Have You Seen the Sun", one of the selected ideas of the 3rd Youth Filmmaking Olympiad, turned into a film directed by Hannaneh Moradian.
The Work has been produced with support of Isfahan Municipality and the festival's office in Isfahan. The filming is now over and it is in the post-production stage, the 33rd ICFF Public Relations Office reports.
The film is about a boy, called Navid. He is with his friends on their way back from school when they encounter a burning building. In spite of being afraid, he decides to stay and see the firefighting efforts. His friends, however, disagree with his decision.
Here is the list of the cast and crew:
Hannaneh Moradian, director; Amin Qashqaiyan, director's consultant; Sa'id Rashidi, first assistant director; Shahrzad Azizi, second assistant director; Ra'na Mousavi, casting director & script supervisor;  Arman Asgari , cameraman; Armin Sartippour & Mo'in Simafar, camera assistants; Mohammad-Hoseyn Vakili, sound technician; Milad HajSoleymani, production manager; Mohammad-Amin Sattari, make-up artist; Ayda Navai, photographer; Mohammad-Hoseyn Vakili, editor; Sa'id Rashidi, colorist; Arman Asgari, re-recording mixer; Amir-Hoseyn Cholmoghani, Taha Azerbaijani, Abtin Bozorgzad, Ehsan Jazayeri, Mohammad Savadkouhi, Mohammad-Hoseyn Amini, Amir-Ali Khaje Khabbaz, actors.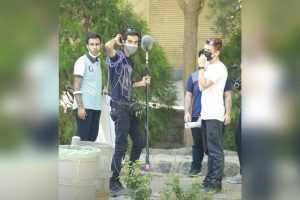 It is worth mentioning that the idea of "Have You Seen the Sun" by Hannaneh Moradian from Isfahan, participating in Abolfazl Jalili's working group, won a medal in the Idea Section of last year's Olympiad.
Due to the outbreak of the new Corona Virus, based on the multilateral agreement made by the Iranian Cinema Organization, Farabi Cinematic Foundation and Isfahan Municipality, this edition of the festival will be held virtually from October 18 to 23, 2020 under the supervision of Alireza Tabesh.
The Festival will be organized in a competitive format in two different sections; Iranian Cinema Competition and International Cinema Competition.