Samyar Muhammadi said, "I've made good friends at the International Film Festival for Children. The competitive atmosphere of the festival motivated us; moreover, I got to socialize with some professionals and know my weaknesses better."
According to the 33rd ICFF Public Relations Office, teenage actor, Samyar Muhammadi, who won the Golden Butterfly Award for best actor at the 31st ICFF for his role in "Chubby & I", talked about his first performance and said, "My debut role was in "The Sound & the Fury" and I got it when I was only 5 years old. I started my acting screen with this performance. I was really into acting, and that's why I decided to attend acting classes. I had had some stage performances before landing my first role in a film."
He added, "Well, "Little Heroes" was the first child film in which I had a role. I played the role of a little ogre. The film was joyful, so I didn't feel stressed at all."
The star of "Pastarioni" added that he looked up to Navid Mohammadzadeh as his acting role model and explained, "I haven't seen all of Navid's films, but I've known he is a great actor since we starred together in "The Sound and the Fury."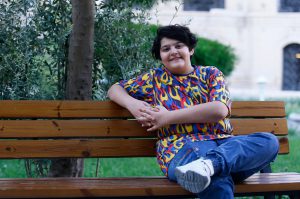 This teenage actor added, "I took part in the ICFF for the first time in 2017 and the film I had acted in back then was called "Little Heroes." The following year, I starred in "Chubby & I" for which I won the award for the best actor. The atmosphere of the festival is joyful, and the competitive nature of the festival motivated us. What's more, is that I made a lot of friends."
Mohammadi pointed out that the participation of professional actors in the festival has been memorable for him. He added that he had been able to work on his weaknesses – an experience that has been pleasant for him.
Samyar Mohammadi talked about his favorite roles and said, "I have always wanted to play the role of the little kid that gets trapped in the witch's cellar in "Thief of Dolls." I would like to be in Akbar Abdi's shoes if I were a grown-up and if I were him, I would act in more films for children."
"My favorite animated series is "SpongeBob Squarepants." I love it. I love superhero films, and I hope more films for children will be made in Iran in the future."
Due to the outbreak of the new corona-virus and based on the multimedia agreement made by the Iranian Cinema Organization, Farabi Cinematic Foundation, and Isfahan Municipality, this edition of the festival will be held virtually from October 18 to 23, 2020 under the supervision of Alireza Tabesh.
The festival will be organized in a competitive format in two different sections; Iranian Cinema Competition and International Cinema Competition.