Special "Idea Submission" workshop to participate in the 4th Youth Film Making Olympiad was held for young adults in Alborz Province.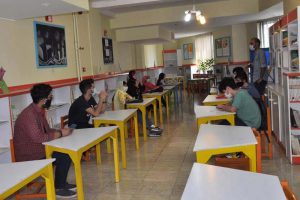 The 33rd ICFF Public Relations Office, as quoted by the public relations of Alborz province, reports that the General Administration Department of the Institute for the Intellectual Development of Children and Young Adults, in a joint collaboration with the provincial institute and the Young Iranian Cinema Society, held a special "Idea Submission" workshop for young adults participating in the 4th Youth Film Making Olympiad, in the children's library of Alborz center complex, with full observance of health protocols.
Amir Mohammad Kharazmi, screenwriter and director and member of the Documentary Filmmakers Forum and House of Cinema Screenwriters, talked to the participants about the features of a good idea and the implementation of the good idea in a screenplay. He also referred to exemplary samples of national and international screenplays, and examined the texts written by the young participants in terms of characterizations, plots, climaxes, quotations, etc.
Mohammad Hossein Abedi, The Young Iranian Society of Alborz province headmaster, also explained some points to the teenagers and their families, on how to register ideas in the 4th Youth Film Making Olympiad base.
It is worth mentioning that the 4th Youth Film Making Olympiad will be held in two sections: The idea, which is the initial plot, including the main character and the main clash, and a beginning, middle, and end, and short films, which covers films that run for maximum 5 minutes and have been made since 2018.  Moreover, young adults from 12 to 17 will be able to participate in this Olympiad. Applicants can visit Festival.IYCS.ir to register and to fill the application form as well.
The 4th Youth Film Making Olympiad will be held on Oct 18 to 23, and in two parts: The idea and short movies, as follows: The deadline for registration and idea submission is October, 1, 2020.
Due to the outbreak of the new coronavirus and based on the multimedia agreement made by the Iranian Cinema Organization, Farabi Cinematic Foundation, and Isfahan Municipality, this edition of the festival will be held virtually from October 18 to 23, 2020 under the supervision of Alireza Tabesh.
The festival will be organized in a competitive format in two different sections; Iranian Cinema Competition and International Cinema Competition.