The initial number of submitted works to the 4th Youth Filmmaking Olympiad was announced.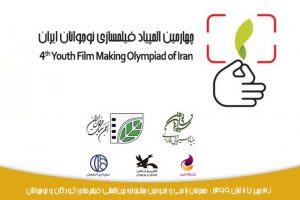 'The submission deadline for the Iranian youth works inside the country was September 20th, up to which 842 works were received by the secretariat', said the executive director of the Youth Filmmaking Olympiad, Soheyla Askari.
'During the 2-month period, 439 works, including 422 works related to the announced subjects in the Idea Section and 17 works in the Special Section (the youth view on COVID-19 lessons for reaching a better future), were submitted to the Olympiad. Moreover, in the Film Section, 403 works, including 200 short narrative films, 44 short documentaries, 24 experimental films and 135 short animated films were submitted', she added.
The reviewing of the works in the Idea and Film sections has begun and the titles of the selected works by the Iranian youth inside the country are expected to be announced by October 6th so that the chosen ones can participate in the planned educational programs, according to this member of the Content Planning Committee of the Olympiad.
'As previously announced, the Youth Filmmaking Olympiad is going to be held virtually, and based on the timetable which will be later presented, the selected youth from all over the country will take part in the online programs of the Olympiad five hours a day. The conditions and details of how they will use those programs are to be announced later', Askari continued.
Acknowledging the activities done by the youth in presenting the ideas and films during the pandemic, she pointed out that the final deadline for registering and submissions by the Iranian youth outside the country will be October 1st 2020 and the number of their submitted works will also be publicized.
The 4th Youth Filmmaking Olympiad of Iran is going to be held virtually by Farabi Cinematic Foundation and the Iranian Youth Cinema Society, in collaboration with Institute for the Intellectual Development of Children and Young Adults, Islamic Culture and Communication Organization, Isfahan Municipality and Omid TV, from October 18 to 23, 2020, along with the 33rd International Film Festival for Children and Youth.
Due to the outbreak of the new Corona Virus, based on the multilateral agreement made by the Iranian Cinema Organization, Farabi Cinematic Foundation and Isfahan Municipality, this edition of the festival will be held virtually from October 18 to 23, 2020 under the supervision of Alireza Tabesh.
The Festival will be organized in a competitive format in two different sections; Iranian Cinema Competition and International Cinema Competition.