Chandra K. Jha, born in 1972, India, Chandra K. Jha is a film producer, promoter and the CEO of Mountain River Films (MRF), a film production and sales company based in India, UAE, Mauritius and Nepal. He started his career as a journalist working on assignments for Al Jazeera, All India Radio, Doordarshan and Discovery. With the aim of making unique and meaningful films, he decided to establish Mountain River Films in 2010. Besides producing and making movies, he has been successful in acquiring many films for international sales from South Asia and all over the world and collaborating with international filmmakers in line production projects in South Asian countries He has also served as Assistant Secretary General at Federation of Motion Pictures Producers in Asian-Pacific (FPA) for more than 3 years and has been actively participating in promoting films in its annual Film Festival (Asia Pacific Film Festival).
His workshop title during the 33rd ICFF was "How to Introduce Films Related to Children Cinema to Global". And he had an interview with the public relations office of the festival: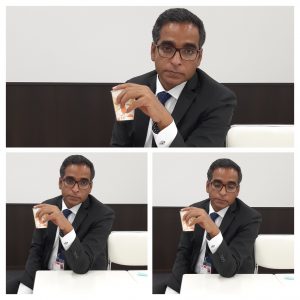 How do you feel about Iranian Children Cinema? Are you familiar with that?
Children Cinema is an important genre in the world of cinema and it's a genre which can top the charts and give competition to mainstream fiction or any other most popular genre of the time. It is also important as children are the future of the planet and a good cinema can contribute towards the healthy mind of a child and to bring them close to culture, art, ethical values such as family unity, respect for humanity, self-esteem, social responsibility, environmental concerns and love for the earth as well as creating awareness of the uprising future challenges that the coming generations will potentially encounter.  Mountain River Films has some Iranian movies under our portfolio which gives me an understanding of how the Iranian cinema industry is, its dynamics and depth of excellence portrayed by Iranian Cinema setting examples for world cinema. This excellence is something that cinema makers in Iran need to replicate in children cinema. Iran has seen a golden era in this genre 25-30 years ago when this genre in Iran was similar to Hollywood sales. This era is a bright shining star in the children genre history and it needs to be recreated in a bigger way so that the world can see the potential Iranian Cinema has.  I feel Iran has achieved excellence in cinema which is praise worthy and it sets an example for movie makers around the world. It is a lesson to a lot of people and many filmmakers follow Iranian cinema to learn excellence. It is also a source of inspiration for film makers across the globe and many film makers try to copy Iranian films which is in itself applaudable.
Have you been familiar with ICFF? How do you feel about it?
ICFF is one of its kind festivals and personally I admire this festival. Mountain River Films is an active participant in Film Festivals across the world and most festivals are commercial with a lot of importance to mainstream cinema or cinema with a deep rooted subject. However, ICFF particularly focuses on Children and Youth and it's a genre which needs attention around the world. Children and Youth are the future of this earth and I feel ICFF is doing great by focusing on such a wonderful genre. Initiatives of ICFF will open the doors for this genre and the cinema makers motivating them to create masterpieces. I wish all the very best to ICFF's initiatives and always stand by and support the work of ICFF today and any day in the future.
What is the most memorable thing in In Iranian Children Cinema for you?
I cannot name one particular cinema when it comes to memories as I am a cinema lover and picking one memorable thing is difficult. However, I particularly enjoy the way Iranian directors making children's cinema have found the freedom of expression through kids' emotions that the world has never witnessed and the way they portray the characters and the stories.
4- Based on coronavirus, this edition of the festival will be held virtually. What are the differences between a physical festival and a virtual one?
Definitely the human touch is missing when everything is virtual. Festivals are always a platform for filmmakers like us to interact and share our creative outputs. They are a way we learn and share and experience world cinema. Cinema is an art which needs to be enjoyed and festivals give chance to the artists within us to enjoy art works. Virtually this is the biggest difference. Art cannot be bound within the virtual world. It needs to be free flowing and a virtual festival cannot cater to this essence of a physical film festival.
5- Have you ever experienced holding a workshop virtually?
No. I have not.
6- What advantages do you think holding a virtual festival may have for everyone including workshops?
The reach of the virtual world is much larger as compared to a physical event which is the greatest advantage. However, I am an old fashioned man and I feel virtual festivals/ workshops can never bring in the essence of physical interaction and idea sharing. It just doesn't have the human touch needed. But of course we all are learning to adapt ourselves to the new normal.
7- As there have been several virtual or partially virtual international festivals since the pandemic began, have you experienced participating in any of them? If so, what were they like?
Yes, I have participated in a number of festivals virtually in recent days. Honestly, I have a mixed feeling about it. These festivals have definitely given more reach. People are breaking boundaries with virtual events by reaching out to a larger audience. However, the lively interactions are missing. The charm of these festivals are in the screening and the physical interaction which was missing in all the markets and festivals we have attended this year.
8-What do you think about the main themes of this edition? What do you think should be the main concern or concerns of people making films for children?
The theme is Superb! Making cinema for children is challenging and a filmmaker needs to be very much focused on what kind of impact it will have on the child's mind. An in-depth knowledge of Psychology is very important for children cinema makers. A child's mind is like a plain canvas and knowingly or unknowingly the subject paints a picture on the child's mind. Thus, it's very important to choose and portray the subject carefully in this genre.