14 child and young adult jury members from Iran and five Asian and European countries have been selected to judge the films at the international section of the 33rd International Film Festival for Children and Young Adults (ICFF).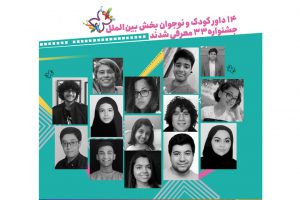 The 33rd ICFF Public Relations Office reports these jury members will virtually judge seven feature films and three animations at this section.
According to this report, the child and young adult jury members at this section are:
1. Fatemeh Saad from Pakistan
2. Seyed Haider Abbas from Pakistan
3. Tamara Mkhitaryan from Armenia
4. Narek Avetisyan from Armenia
5. Ruhani Singh from India
6. Aineesh Dutt from India
7. Leona Jarikj from Macedonia
8. Muhamed Tufekdje from Macedonia
9. Carmine Ciccarone from Italy
10. Asja Donesi from Italy
11. Asal Bahador from Iran
12. Ahoura Aboli from Iran
13. Yeganeh Mohammadi from Iran
14. Mohammad Sadra Beheshtian Nejad from Iran
Due to the outbreak of the new coronavirus and based on the multimedia agreement made by the Iranian Cinema Organization, Farabi Cinematic Foundation, and Isfahan Municipality, this edition of the festival will be held virtually from October 18 to 23, 2020 under the supervision of Alireza Tabesh.
The festival will be organized in a competitive format in two different sections; Iranian Cinema Competition and International Cinema Competition.