The 33rd ICFF press conference was held with the Festival Director, Alireza Tabesh, and the Head of Public Relations Office, Mohsen Dalili, on Tuesday 13 October, at Kiarostami Hall, Farabi Cinematic Foundation.
Due to the pandemic outbreak and in order to maintain the health protocols, the conference was held virtually and some questions were asked on the phone while others were read from notes, the 33rd ICFF Public Relations Office reports.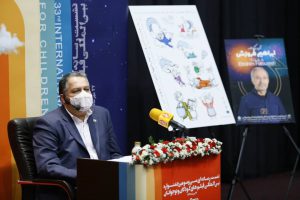 Tabesh Started the Conference expressing heartfelt condolences over the saddening death of great artists such as Mohammad-Reza Shajarian, Akbar Alami, Manouchehr Tayyab and Khosrow Sinai to the Iranian artistic society and their respective families.
'The 33rd International Film Festival for Children and Youth is being held while everything is drastically affected by the COVID-19 crisis. General public and students, in particular, are being bombarded with a huge amount of sad news; and as people active in the realm of culture, our responsibility is to think of ways to improve the younger generation's mental condition. I hope the first virtual festival in Iran can bring more colors and light to the life of Iranian Children and young adults', he pointed out.
This Edition's Motto: Every Home a Cinema, Every Child a Jury Member
'This Edition of the festival will be held under the motto "Every Home a Cinema, Every Child a Jury Member"', Tabesh added. He also referred to the Educational workshops which are going to be held virtually in two National and International sections from Saturday 17 October and said, 'those interested can participate in these workshops, using discount codes on the website'.
The Film Library of the Festival Can Be Accessed Virtually
The festival director also pointed out that the Festival Library in this edition can be accessed online and the audience to this section can use it for six days to find out about different films as well as film distributors as they sign in to their accounts on the festival website. 'The 4th Youth Filmmaking Olympiad of Iran is also being held virtually, and children can participate in this event for four days', Tabesh added.
107 Films through Different Platforms and Special Screenings for the Disabled with Visual and Hearing Impairments
'In this edition, 107 films are going to be shown to the audience through different platforms some of which will be presented with audio commentaries or sign-language interpretations as a part of our duty to value our special audience', the festival director explained.