The terms and conditions of signing up as child jury members of the 33rd ICFF were announced.
As announced by the secretariat of the festival, due to the pandemic outbreak, contrary to the past, the child and teenage jury members will judge the films virtually and from home in this edition of the festival, the 33rd ICFF Public Relations Office reports.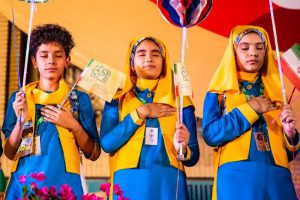 Accordingly, as it is possible now to judge the works on-line and a larger number of children can participate in the process of giving verdicts, a visual call for signing up has been publicized nationwide. According to this public call, children and young adults, 5 to 15 years old, can sign up with the festival website at www.portal.icff.ir and register on the Child and Teenage Juries.
After being verified, during the screenings, the juries can choose among the three choices Good, Average, Weak for the works being screened in the five different sections of Feature Films, Animated Short Films, Live-action Short Films, Web-series, and Corona-narrative on one of the platforms Namava, Filimo and Tiva.
It should be mentioned that the screening for the jury members and their families are free of charge.
In addition, in order to provide everyone with equal conditions for judging the works of the five sections, if a jury member misses one film on one platform, they can watch it on another platform only once again.
The deadline for signing up as child and teenage jury members is October 16, and the screening schedule on the platforms will soon be announced.
Due to the outbreak of the new Corona Virus, based on the multilateral agreement made by the Iranian Cinema Organization, Farabi Cinematic Foundation and Isfahan Municipality, this edition of the festival will be held virtually from October 18 to 23, 2020 under the supervision of Alireza Tabesh.
The Festival will be organized in a competitive format in two different sections; Iranian Cinema Competition and International Cinema Competition.